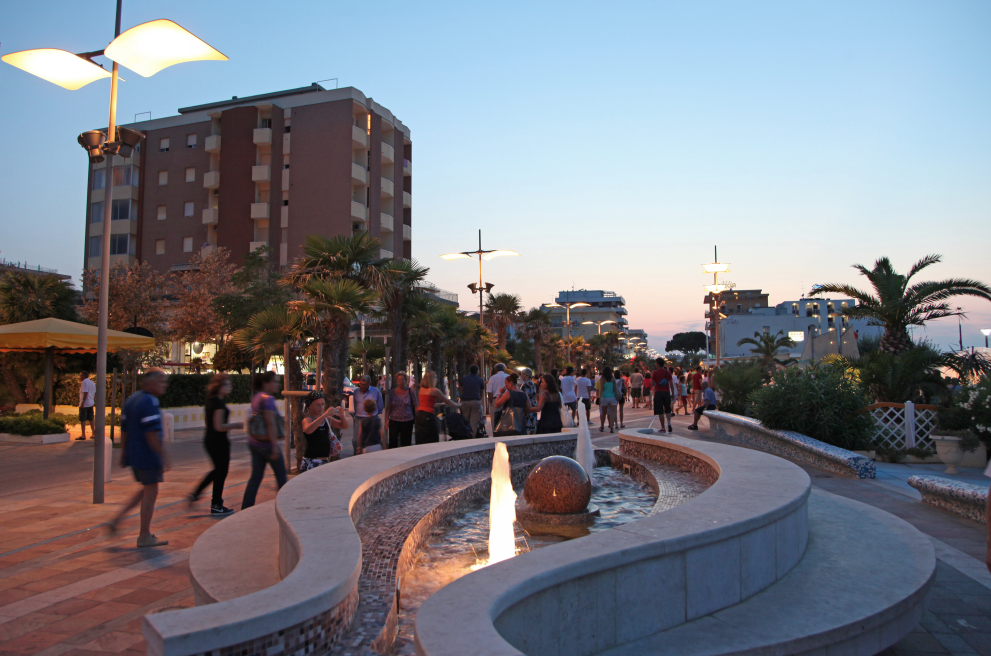 The beach with its fine sand and a sun which accompanies it from sunset to sunrise is surely one of the main attractions that the town reserves for its guests.The costal zone, including the area between the River Conca and the Alberello Canal winds for about 3 km. In this somewhat short space, an open air gym for healthy early morning walks, orderly rows of multicoloured beach umbrellas and sun beds, cutting edge services (lifesaving, first aid and on call medical service, public loud speakers, toilet facilities and a well kept sandy shore etc.), guarantee a safe and restful seaside holiday.
Thanks to the organising structures and the quality of its seawater, the beach and the port of Misano Adriatico have been awarded the Blue Flag several times by the International Committee and the Environmental Board of the European Community Commission. This recognition crowns years of commitment and coherence with regard to environmental politics. Interventions have also recently been carried out to strengthen and improve sewage systems and sewage purification plants which have led to the elimination of draining waste into the sea not only in the entire territory of Misano but also in the upstream municipalities, the first pertaining to the River Conca which today can through special ducts, can channel the waste water into the purification plants adequately empowered in the two costal towns of Misano and Cattolica.
For lovers of boat trips on the open sea and along the coast, it is possible to go on interesting excursion on motor vessels which leave daily from Portoverde, Misano's touristic port. The latter, is without doubt, the most well equipped on the Adriatic coast from the tourist point of view, and boasts every kind of service and installations which make it a residential complex of great prestige.
The climate from April to October is ideal for all ages, with a temperature of about 30° in the months of July and August.
Ti potrebbe interessare anche...