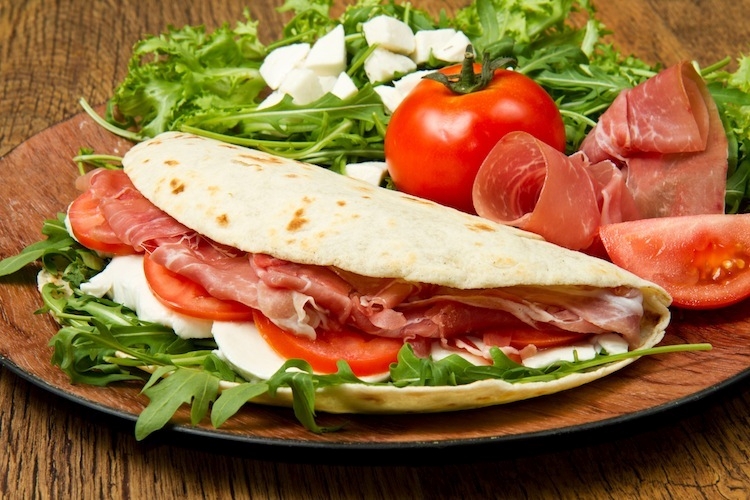 Perhaps not everyone knows that piadina romagnola is a dish that has its roots in the Etruscan tradition! In our area, our grandparents and great-grandparents ate it often because it was made with simple and inexpensive ingredients. Now there are many versions of it, with both savoury and sweet fillings. They range from the classic piadina – filled with Parma ham and mozzarella -, a hamburger one made with Chianina beef, to that with Nutella or with tuna tartar and caramelized onions, as reinterpreted by the chefs. If your mouth is already watering and you want to have a try, follow our instructions!
Quantities for 4/5 piadinas:
> 500 grams of flour,
> 80 grams of lard (room temperature),
> salt,
> 250 grams of water (add more as needed. It depends on the amount of water your flour absorbs)
Now that you have all the ingredients proceed as follows:
Put the flour, the lard, and the salt in a large bowl. Add water and mix well to get a compact, smooth dough. Wrap it up in cling film and let it rest for at least 30 minutes. Cut into balls and flatten them out with a rolling pin into 0.5cm thick circles. Meanwhile, heat the flat pan specifically designed for piadina or a non-stick pan on a stove. Put the piadina onto the pan and start cooking it. Turn it often on each side with a long-blade knife and prick the surface with a fork to avoid air-bubbles. Cook it a few minutes on each side and it will be ready. Fill it as you like: Parma ham, ham, country herbs, spreadable cheese stracchino and rocket salad, sausage, Nutella … or anything you think of!
Ti potrebbe interessare anche...